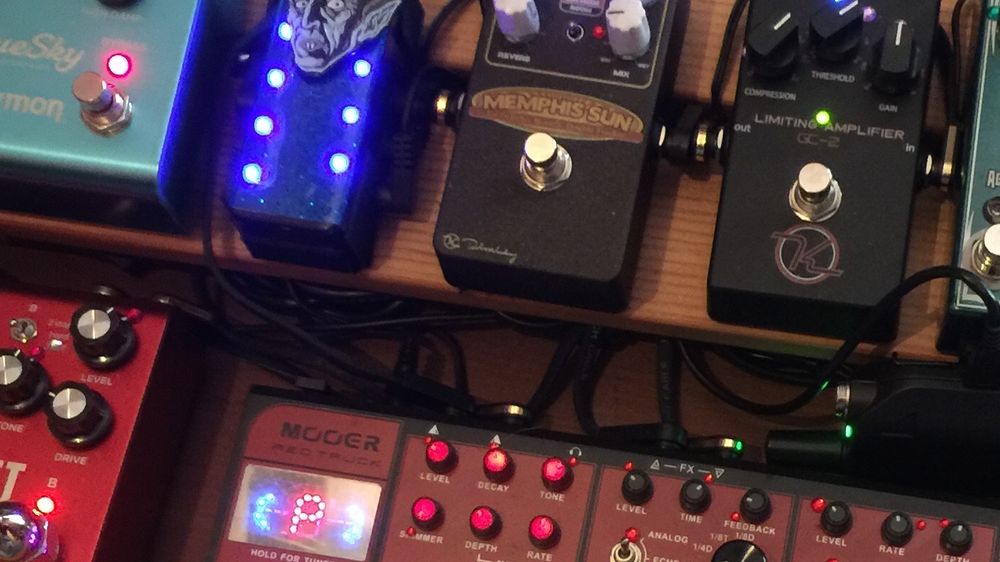 Gear
Get Ready to Geek Out!
On this page I post about my guitars, pedals, amps, upright basses, experiments, and whatever else relates to gear and geeking out with music.
Spider Guitar!
In this video, I tell you about this Gretsch 5420T that I had custom painted and upgraded by Randy at RWR guitars. All the details are in the video. I also recorded a cover of the 1967 Spider-Man cartoon theme in a fun rockabilly style! I hope you like it!

Song: iTunes - YouTube - Spotify 
 
Deathgrips Monster Hand Guitar Hanger!
In this video, I'm just showing you a neat guitar wall hanger that looks like a monster hand! (Guitar stand)

Deathgrips Etsy Shop Link: https://www.etsy.com/shop/deathgrips/

I have no affiliation with Death Grips, I just think it's a neat thing. It was perfect for my creature guitar!
The Creature Guitar! 
In this video, I talk about my experience building one of those cheap Pango Guitar kits from ebay. I'm not a guitar builder, so this is in no way a tutorial, or good advice. I talk about how it went and what I learned. At the end, I compare the sound with a similar guitar.
Thanks to Randy at R & R Guitars for making it play well and doing the final wiring. 
My Pedal Board For A Rockabilly Guitar Sound.
In this video I go through the pedals in my custom made, stereo pedal board. I discuss delay settings as well as reverb, overdrive and other effects for a rockabilly guitar sound. I also discuss some basics for beginners, skip forward if you just wanna hear pedals. 
Upright Bass Basics and My Pedal Board.
 In this video, I go through some basics for understanding the dual pick up system and stereo signal that is common on most modern upright bass set ups, as they relate to amplifying the slap sound. I also walk through my current pedalboard for upright bass. Pedals are not commonly used among upright bass players, so be advised that this is just what I'm doing right now, and not necessarily great advice. I do like to tinker and experiment with gear...